Economics & Research Blog
Recovery Indicators Take a Pause that Might Actually be for Refreshment
Over the last few months,
By Dr. Joe Webb
Published: June 3, 2010
Over the last few months, our recovery indicators have been getting a little better, but this time they just moved sideways. It's too early to tell if that's a good thing or not, but some other indicators show some upside.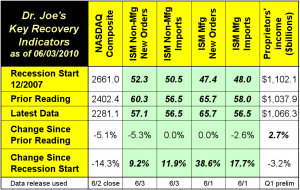 The NASDAQ went down -5.1% since last month as May provided one of the strangest stock market months in history. Even though the 1,000 point decline in the Dow Jones 30 that occurred in about an hour was jokingly referred to as "fat fingers" on a keyboard entering an incorrect trade, when the market repaired itself, it went back to those levels a week or so later without the help of anyone's obese digits. There is great worry in the global markets about debt, deficits, and political tensions, all of which seemed to come together in a way that depressed the earnings outlook for companies a year or so out. Our indicator chart shows that this index is still well below where it was at the claimed recession start of December 2007. All of the Institute of Supply Management indicators stayed the same or retreated. Nonetheless, these are all still in growth territory. In Thursday's release of the ISM's Non-manufacturing indicator, their employment component made a very small gain to go above 50. At this latest reading of 50.4, it is showing some small rise in employment by this sector, but more importantly, ended 28 months of employment contraction. The last revision we had for proprietors' income, our gauge of the health of small business, bumped the advance report up by $2 billion. It's still having problems, but is making generally slow gains. Proprietors' income is part of the GDP report which goes through three revisions, labeled advance, preliminary, and final. And as we know about all economic data, final never really means final. I bring this up because the
productivity data have been revised down
to +2.8% last quarter. While this was perceived as bad, we do have to remember the basic formula for employment growth. When productivity is greater than GDP, employment contracts. When productivity is less than GDP, employment expands because more workers are needed to keep up with demand. When productivity was last reported as +3.6%, it exceeded the +3.2% GDP report. First quarter GDP was revised down to +3.0%, but now exceeds this latest productivity report. While it's not by a large margin, this is the first time this has occurred in a while. On a separate matter, the chart that will appear on the Economics & Research Center page this Monday will be about April's printing shipments. It will also be the first time that the Monthly Shipments Report will be made available at no charge to WhatTheyThink premium subscribers. It includes detailed commentary about these data (as well as data for Canada), as well as statistical forecasts for the rest of this year through 2016. That said, the data were just published by the Commerce Department today. In current dollars, April shipments were $7.048 billion, about -$140 million below last year, a -1.9% decline. For the first four months of the year, shipments were down -4.7% compared to the same period of 2009. Because the decline in April was -1.9% compared to the steeper decline rate of the four month period, are we supposed to claim some kind of moral victory. Declining at a lesser rate is not a step forward, of course. But we must remember that what happens in a marketplace does not mean it happens to all of the companies in that marketplace. Because some printers are probably having less competition in their markets from closed competitors, many printers may have a sense of relief, and perhaps even confidence, in these upcoming months. We hope that's what's happening. We're not exempt from the growing encroachment of digital alternatives, but maybe there's a little breathing room if what we think happened with plant closures and downsizing in 2009 really occurred. We'll have everything all tallied up and inflation-adjusted for Monday's premiere of the new format for this data series. We'll tackle these and other subjects at that time. Friday, June 4, is the release of the latest unemployment data. If the rate goes up, look to see if the workforce expanded before judging the figure. There are some reports that it will be a half-million rise in employment. One only knows when we see the data before us. I'll Tweet comments once I have a chance to review the data. That can be found at
www.twitter.com/wtterc
.