PREMIUM CONTENT PREVIEW
This article is part of our premium member access. If this commentary & analysis is relevant to your business, please consider supporting us by becoming a member.
Premium Commentary & Analysis
Is It Time to Specialize Your Sales Force?
In today's market, you must align your sales organization with your overall business strategy while also accommodating the changing demands of your customer base. This article discusses how taking a specialist approach can help you meet these objectives.
By Barb Pellow
Published: February 14, 2014
Creating an effective sales force is an art in and of itself, but few things are as important to driving your business. Even before you find great sales talent, you need to decide how you want to structure your sales. The fundamental message is that you must align your sales organization with your overall business strategy while also accommodating the changing demands of your customer base.
Changing Customer Demands
There is no shortage of articles discussing the changing dynamics of the sales process for B2B customers. Just a couple of examples include Bain & Company's report entitled Is Complexity Killing Your Sales Model? (January 2013) and the book entitled The Challenger Sale: Taking Control of the Customer Conversation by Executive Board's Matthew Dixon and Brent Adamson. The fundamental premise of these publications is that customers have become more experienced and sophisticated in the purchasing process. As a result, suppliers have higher expectations—it can't be a commodity sale anymore. Customers are demanding suppliers that can help solve their business problems, and they are measuring value based on outcome.
In response to changing customer needs, print service providers are expanding their value-added services and moving from "print only" product portfolios to cutting-edge multi-product portfolios. Print-oriented sales are being replaced by solutions that are knit together into an integrated offering. Examples include managing the marketing supply chain, developing cross-media marketing campaigns, expanding mailing and fulfillment operations, supporting video, and migrating to mobile applications.
Implications to the Sales Structure
When service providers were solely focused on selling print, a generalist sales model could thrive as long as the account coverage was right. With the expanding level of offering complexity, credibility is essential. It's impossible for a single individual to have all the skills required to sell everything from print to print e-commerce to cross-media campaigns to mobile apps. Organizations need to secure sales professionals with targeted expertise who are proficient in the consultative sales approach.
Service providers are finding that specialists are most effective when in-depth knowledge is required to sell more advanced capabilities to customers. End customers want partners that can deliver market insight and innovative approaches to problem solving, and a teaming approach provides the solution. The generalist account rep is responsible for possessing a solid knowledge of the customer's business problems, but the right specialist resources must be brought into the sales effort when they will be most effective.
Leading organizations are taking a "mining and hunting" approach with existing clients. Generalist account reps with client relationships are being asked to mine accounts for greater opportunity. They are leveraging specialist resources to enhance customer relationships with new departments and open the door for service expansion. The objective is to mine existing clients and maximize the full relationship potential.
In parallel, for true growth, companies need a team that is focused on hunting for new business. Owners must evaluate the overall product portfolio and clearly identify who should be hunting and where they should be hunting. Specialist resources should be in place to assist the hunter in exploring new territories.
Service providers are finding the benefits of specialization to be fairly significant in today's market. In addition to shortening sales cycles and providing an enhanced level of customer focus, specialists can help a service provider appear much more strategic in the eyes of customers. Bain & Company highlights one of the most significant benefits of a teaming approach. Specialization may be critical for getting a new initiative started, but specialists can also help make those areas of special knowledge common over time. The economics of this sales model makes the specialist perishable as the solution moves through its lifecycle. The key message for service providers is that specialists are critical to gain a foothold and build expertise ahead of competitors. Once sales have ramped up, though, the specialist resources should be redeployed to the next high-growth opportunity.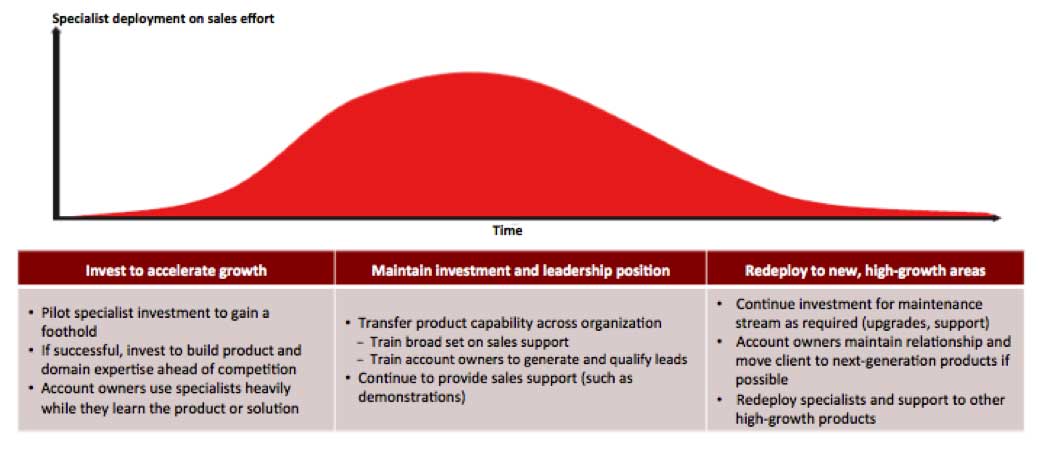 The Bottom Line
Everyone has heard that adage, "Nothing happens until somebody sells something." Nothing could be truer in today's market. Service providers should continually be reassessing how their sales forces are structured. Your sales force must be aligned with your organization's strategic objectives as well as the demands of your customer base. With the complexity of emerging products and services, specialization is becoming more and more essential. Determine where you want to take your business… then make sure you have the right sales team and structure to get you there!